Presented in Partnership With


Biggest Open House in Central Texas
Open Weekends
April 15th - 23rd

Open Saturdays 10am - 5pm & Sundays 12pm - 5pm
What is the Spring Tour of Homes?
The Spring Tour of Homes (STOH) is a multi-site tour of homes that will be held throughout San Antonio and its surrounding counties. The participating Building and Development communities come together to co-host this open house event.

The Greater San Antonio Builders Association (GSABA) covers 22 counties and this year,
GSABA is excited to announce they are teaming up with the New Braunfels Builders Association to include Comal County in the STOH as well.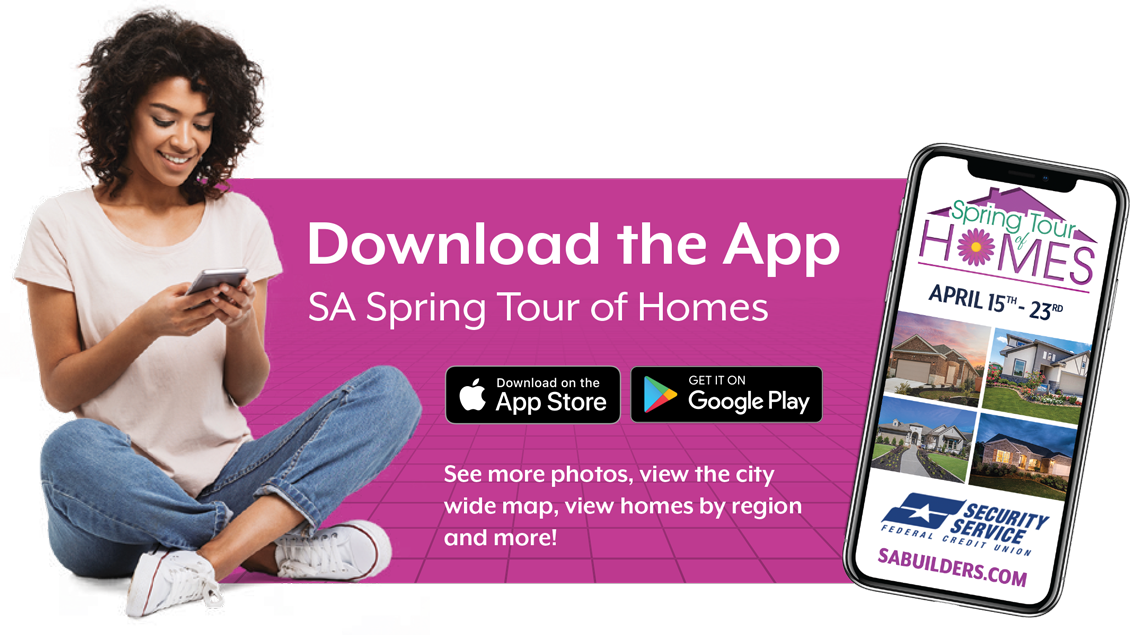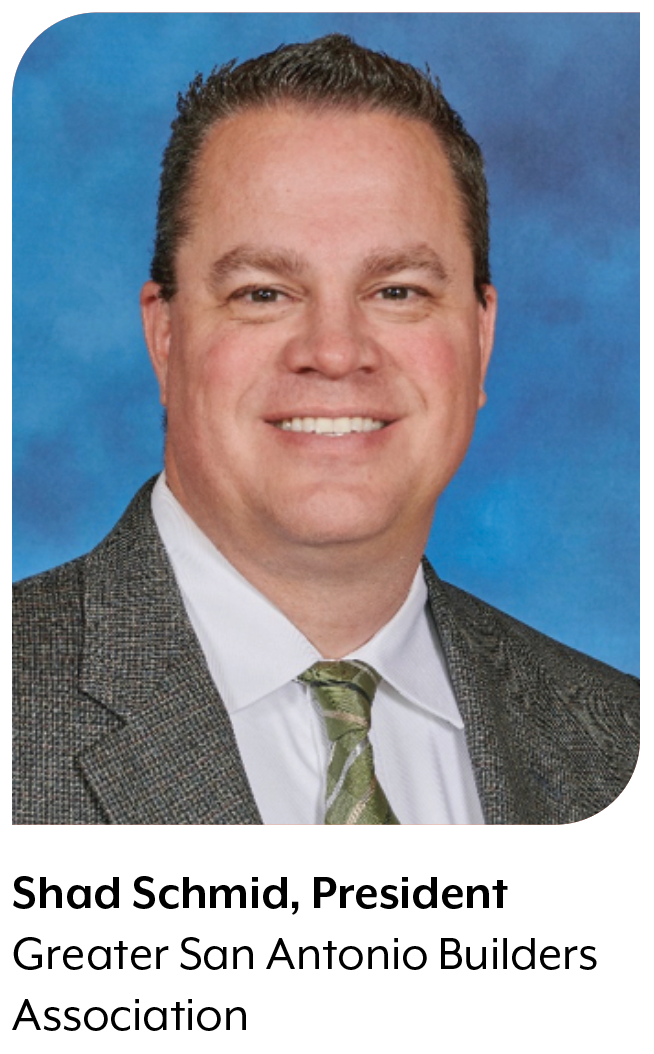 It is a pleasure to welcome you to the 2023 Spring Tour of Homes. This year, we are pleased to showcase 60 homes along with five key master-planned communities located throughout the greater San Antonio and New Braunfels area.
This year's Spring Tour features homes with a variety of different architectural styles from traditional, to contemporary and modern farmhouses. Rich regional materials have found balance with contrasting colors to create strong curb appeal. You will want to tour homes in all the different neighborhoods to see all the design choices available.
You will find kitchens designed with thoughtful touches and clean designs throughout the Tour. Natural wood and attractive colored cabinets feature prominently within the homes and communities. Buyers will find high-end appliances in the custom homes with the most popular finish being stainless steel. From eye-catching backsplashes to ceiling details, today's kitchens are expanding beyond the basic white and wood palettes in years prior. Even hood designs are getting more creative as designers work to disguise them in clever ways to help them blend more seamlessly with the overall space.
Kitchen islands continue to remain prominent in many home designs and reign supreme as one of the sought-after 'must haves' of home buyers. There are award-winning designs that feature creative insets and add-ons like wine fridges and larger kitchens with food prep areas. In fact, wine in design is becoming a focal point in some homes with wine walls and walk-in wine cellars.
Foyers are getting more attention than ever, and builders are using rich materials, strong contrasts, and sweeping staircases that make great first impressions. Outdoor living areas are at the top of the list of homebuyers at all price points in the market today. Some of the homes on the tour include patios with built-in kitchens that feature BBQ grills, refrigerators, and granite countertops.
Builders are doing a great job in providing luxury in the bathroom too. The size of the home does play a role to some degree. The showers are bigger, and you will find stand-alone or soaking tubs in many primary baths. There are some unique bathroom designs that focus on bringing lots of natural light while still maintaining privacy, whether through frosted panes or outdoor privacy walls.
The Greater San Antonio Builders Association members are ready to welcome you and your family into their homes on the tour beginning on Saturday, April 15th; Sunday, April 16th; Saturday, April 22nd and Sunday, April 23rd. Homes on the tour are open from 10:00am to 5:00pm on Saturday and from noon to 5:00pm on Sunday.
CPS Energy is the presenting partner of the 2023 Spring Tour of Homes co-hosted by the Greater San Antonio Builders Association and the Greater New Braunfels Home Builders Association. The tour covers 23 counties and features homes at all price points. Check out our mobile app powered by Security Service Federal Credit Union that can give you driving directions to all the homes on the tour.
We have several award-winning builders who can build you the home of your dreams. As families weathered COVID together, we all realized how important our homes are. Owning a home is the ultimate American dream. We hope that you can join us for the biggest open house in Central Texas.
There truly is something for everyone!
Enjoy the tour,