Despite Weekly Declines, Refinancing Year-over-year Gains Remain Strong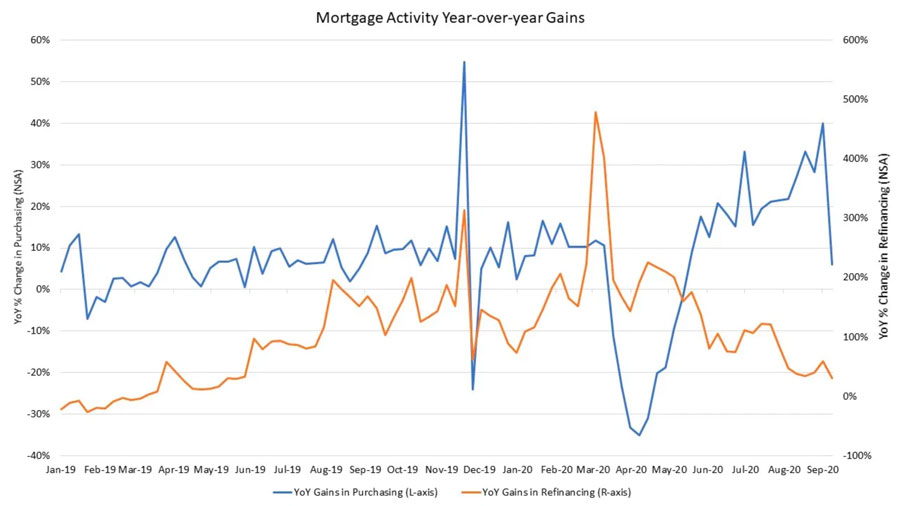 For the week ending September 11, 2020, the Mortgage Banker's Association's (MBA) Weekly Application Survey indicated a decrease in its Market Composite Index, a measure of both purchasing and refinancing, of 2.5% from one week earlier on a seasonally adjusted basis. The Purchasing and Refinancing Indexes decreased by 0.5% and 3.7%, respectively. The survey's tracked 30-year fixed-rate mortgage rate remained unchanged from the previous week, still hovering one basis point above the record low of 3.06% reached at the beginning of August.
Despite the weekly decline in application activity, the unadjusted Purchasing and Refinancing indexes were higher than what they were the same week one year ago, at 6% and 30%, respectively. The year-over-year gain for purchasing significantly dropped from the previous week, as shown in the figure above.
The MBA stated in its weekly report that the average loan size was pushed up to a record high of $370,200 in the latest week, as well. The refinance share of mortgage activity decreased to 62.8 percent of total applications from 63.1 percent the previous week. The adjustable-rate mortgage (ARM) share of activity increased to 2.3 percent of total applications. By dollar volume, the share of ARMs increased, as well, to 6.5% of all applications.