NAHB Accepting Nominations for Defender of Housing Awards
Nominations are due by May 29, 2020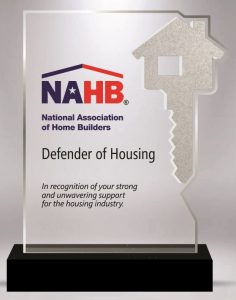 The NAHB Federation is once again recognizing courageous federal legislators who have demonstrated strong support for housing with the Defender of Housing awards.
HBAs are encouraged to think about the contributions their legislators in the 116th Congress have made in support for home building, remodeling and development, and submit an application.
Each nominee is reviewed by a select group of NAHB Federal Government Affairs Committee members before being chosen for this national award. And each legislator honored helps raise the profile of the state or local HBA making the submission.
Nominations are now being accepted and are due by May 29. Award winners will be announced throughout the 2020 election season. For additional information, contact Lauren Goodwin.